How Was Your Child's Day…
This project was created with the help of a printable from http://www.livinglocurto.com/. She creates some very inspirational printables and this is one of my favorites.
First I purchased two of the really cheap frames form Walmart. They are a plastic frame but I chose the design that had the sturdiest backing.
Then my daughter and I took the back off and the glass out – putting them aside.
The resulting empty frames were primed with Krylon Primer – Gray.
Then we painted her's the color we redid her bedroom – Valspar Mediterranean and my son's we painted the Valspar Hunter Green which we had used to refinish his entire room.
We then put the frames back together with the prinables displayed.
And best of all – the glass acts as a dry erase board. The day can be documented daily and wiped away to use again the next day.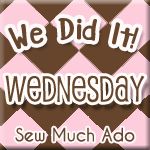 http://www.bluecricketdesign.net