$25 Amazon Gift Card Giveaway – Random Acts of Kindness


December 31st is my birthday and I have been thinking about what I can do for all of you for my birthday – that would also help me on my birthday (sort of).
I decided to offer a $25 Amazon Gift Card for a giveaway. This giveaway will be different than any other, so PLEASE – enter, and enter daily!
From December 1st through December 31st I am asking you each to do one – just one – random act of kindness for someone. Your entry just needs to tell me what that random act is!
Yes, the impetus for this giveaway is my birthday. But it is also the holiday season and there are so many people that just want to feel appreciated, needed and acknowledged. I am sure you see it every day – just like me. Here is your chance to do something about it.
Remember the starfish? Make a difference!
Lets make December 2012 a better time!
(Ideas/Suggestions can be found below Rafflecopter)
Just do some random act of kindness (big or small) – add it to the list and that is the only entry. There is no requirement to Like/Follow/Tweet/Retweet
anything. This is just my way of trying to make December 2012 a better place for people who need help! Please join me – the more we share this the greater the impact. Can you imagine if even 10 people make an effort to do a Random Act of Kindness, each day, for 31 days!? All the lives we can touch? What about if 1000 people do it? If you think you can't make a difference – this is your opportunity.
If you are not comfortable documenting your personal random act of kindness – then you may opt to document what someone has done to or for you today? Or something you witnessed today?
This giveaway does not require twitter following, facebook likes, tweets, retweets, or anything – just a note about your random act of kindess for the day.
If you are a blog and would like to place this button on your blog – please do. I would love to know you have done so though so I can share the responses with you (and you with your followers if you are interested).
That's it. Just love your neighbor, people in need, friends etc… for one month, every single day! We can make a difference – and a huge one if we all put our hearts in it!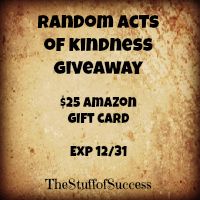 Enter the Rafflecopter Giveaway every day!
And lastly – for anyone who donates to The Stuff of Success (see my "I blog for Diet Coke" button in the sidebar) in the month of December – I will donate all of it to a local food bank.
Hold the door open for the person behind you.
Donate your old clothes to someone in need. Your old is someone else's new.
Write a positive

review about a local business or author.
Listen to someone – really LISTEN.
Donate blood. One pint of blood can save up to three lives.
Volunteer at a hospital, homeless shelter, nursing home, etc

.
House warming gifts for new neighbors.
Share your umbrella with a stranger on a rainy day.
Check up on someone who looks lonely.
Let someone with only a few items cut you in line at the grocery store.
Give words of encouragement to someone about their dreams, no matter how big or small they are.
Help someone get your parking space in a crowded parking lot when you're leaving.
Babysit for couples or single parents who don't get out much so they can have some alone time.
Look for ways to save a few extra bucks a month and then donate that money.
Shop at local Salvation Army or Goodwill thrift stores. The money you spend will help others.
Spend a few clicks of your time at
Free Rice.
Make a difference in the life of a child. Give them your time and undivided attention.
Pay for the person in line behind you.
Drop off your old eye glasses at your local

LensCrafters

or to your local Lions Club.
Create a care package and send it to an active duty military unit.
Create a box of Christmas cards and send it to Holiday Mail for Heroes (guidelines HERE)
Redirect gifts. Instead of having people give you birthday and holiday gifts, ask them to donate gifts or money to a good cause.
The next time you see someone pulled over with a flat tire, or in need of assistance, stop and ask how you can help.
Become a mentor or tutor to someone in need.
Help the Christmas shopper in front of you who needs that extra two or three cents to avoid breaking a 20-dollar bill
If you realize someone is sick, bring them some hot tea, soup, etc.
Put some change in an expired parking meter
Offer your seat to someone when there aren't any left.
Listen to someone's pain and help them through it.
Hug a friend and let them know how important they are.
Reduce, reuse and recycle.
Bake and share – friends, colleagues, postman etc…
Leave a good book for someone else to read.
Participate in Freecycle.
Clean up litter in the area.
Send a nice letter or email to someone.
Leave positive notes in library books or other random places.
Donate pet food to a local shelter.
Donate prom dresses to local underprivileged youth.
Choose a cause and make a difference – save the whales, eliminate modern day slavery etc…
Instead of accepting payment for something – have them pay it forward.
Tip more than you normally would.
Be extra nice to customer service – especially if they seem stressed.
Say a prayer for someone in need.
Show respect to a soldier.