The Peanut Butter Falcon follows Zak (Zack Gottsagen), a young man with Down syndrome who runs away from a residential nursing home to fulfill his dream of attending the pro wrestling school of his idol, The Salt Water Redneck (Thomas Haden Church). On the road, Zak meets Tyler (Shia LaBeouf), a small-time outlaw who becomes Zak's unlikely coach and ally. Together, they set out on a wild, life-changing journey and try to convince Eleanor (Dakota Johnson), a kind nursing-home employee charged with bringing Zak back, to join them.
ABOUT LIONSGATE
The first major new studio in decades, Lionsgate is a global content leader whose films, television series, digital products and linear and over-the-top platforms reach next generation audiences around the world.  In addition to its filmed entertainment leadership, Lionsgate content drives a growing presence in interactive and location-based entertainment, video games, esports and other new entertainment technologies.  Lionsgate's content initiatives are backed by a nearly 17,000-title film and television library and delivered through a global sales and distribution infrastructure.  The Lionsgate brand is synonymous with original, daring and ground-breaking content created with special emphasis on the evolving patterns and diverse composition of the Company's worldwide consumer base.
Make your own Peanut Butter Falcon Wrestling Belt cookies…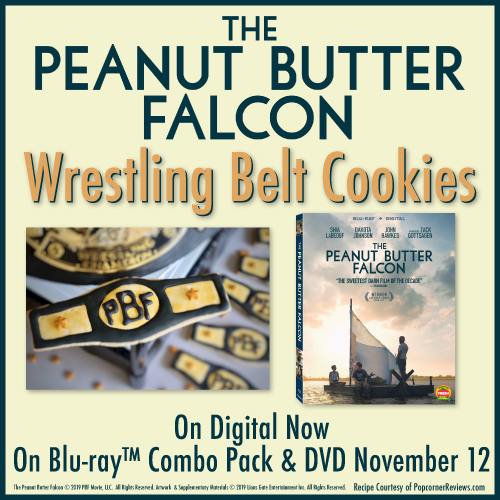 We watched The Peanut Butter Falcon and loved every minute of it.  My husband and I have special needs children and some of the scenes were cringe worthy – but that is sometimes what life is like.  But Zak triumphs in the end and shows the abilities rather than disabilities a person can have.  Everyone can make a difference and everyone has special qualities that make them exceptional – Zak is no different.  Tyler is the first person to believe in Zak – he struggles at first but then recognizes how special Zak is and all that he can do.  We thoroughly enjoyed this movie and highly recommend it!
I received payment, product(s) or services in exchange for an honest opinion.  I only recommend products or services I use personally and/or I believe would be helpful for my readers.  The opinions expressed in this post are entirely my own. Your experience with the product(s) or service(s) may differ from mine.