"Bring the Stink" Febreze Giveaway @FebrezeInWash #BringTheStink
I'm teaming up with some of my favorite bloggers to bring you a GREAT giveaway from Febreze In-Wash Odor Eliminator.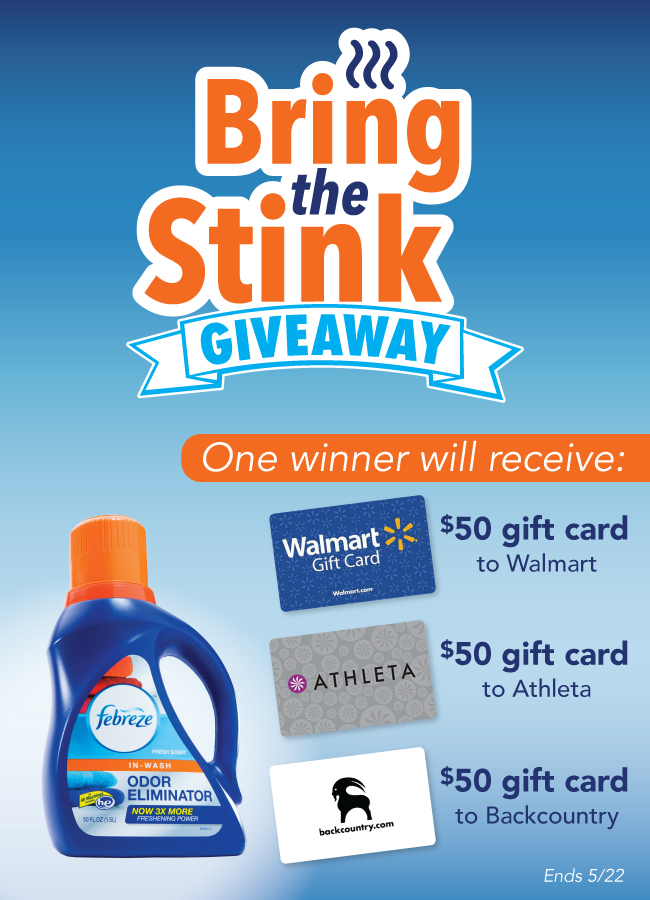 Febreze In-Wash Odor Eliminator invites you to get smelly, then #BringTheStink!
Now with 3x more freshening power, Febreze In-Wash is afraid of no stink!
From sweat to smoke to pet smells, Febreze In-Wash eliminates the toughest odors.
Enter Now to Win!
One lucky (and soon-to-be stinky) winner will receive $50 gift cards to Walmart, Athleta and Backcountry — great retailers that celebrate getting a little smelly.
Step 1
Click here to like Febreze In-Wash on Facebook.
Step 2
Complete the form below. Each Instagram account you follow gives you one more chance to win! Giveaway ends at 11:59 pm on Friday, May 22, 2015.
Please click here if you're not able to see the giveaway form.
Learn more and get great offers at FebrezeInWash.com.
**It is not a requirement to like Febreze In Wash on Facebook in order to enter.