Uber is Changing the World – It Is Easier Than Ever To Work From Home
I live in an area where there weren't taxi services until a couple years ago.  There are no city buses – just a very small transit bus that has a very limited schedule.  There is no real reliable public transportation.
But then Uber came along.  I know several Uber drivers myself.  The concept of this service is very simple – it is a taxi service company that doesn't own any cars.  I travel alot – so often at airports I hear that people are just going to grab Uber.  We have even used the service ourselves. Uber isn't the only delivery service out there.  Other countries have similar programs for takeaway delivery jobs Edinburgh.
How hard is it to become an Uber driver?  Not hard at all – basically if you have a car you can apply.  If you sign up to be a driver – you can drive when you want and earn what you need.  You complete a short application, upload your license, insurance and registration and start a driver screening.  You do need a smartphone so you can download the app which is used to facilitate all transactions.  If you don't have a smartphone – Uber can even help facilitate that for you. But we do recommend having a dashcam for your protection and your passengers' as well. Ratedradardetector has listed some of the best ones on their site.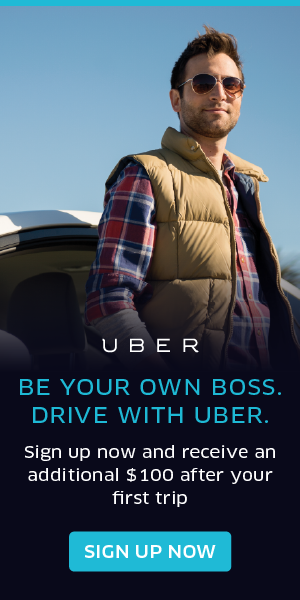 Minimum requirements
Be at least 21 years of age
Have at least one year of driving experience in the U.S. (3 years if you are under 23 years old)
Have a valid U.S. driver's license
Use an eligible 4-door vehicle
After signing up, take a few minutes to start a screening online. It'll review your driving record and criminal history.
Each state has some additional requirements.  For example CT requires a 2002 or newer model vehicle with no cosmetic damage or commercial branding.
Sign up as an Uber today
Start making extra money on your own schedule!
Save