Hotel Transylvania 3 Party Pack
The Drac Pack is back with HOTEL TRANSYLVANIA 3, which will make its debut on Digital HD September 25, and on Blu-ray™ Combo Pack and DVD on October 9, just in time to for a spooky, fun, family movie night right before Halloween! This must-own family comedy, which has grossed more than $425 million in theaters worldwide to date, follows in the tradition of the blockbuster Hotel Transylvania franchise when Mavis surprises Dracula with a family voyage on a luxury, haunted monster cruise ship. Of course, the rest of the Drac Pack has to tag along, and that's when things get a little…batty. The monsters are having a great time, indulging in all of the shipboard fun the cruise has to offer, from monster volleyball to colossus-sized buffets and exotic excursions, but then the unexpected happens when Drac falls for the ship's mysterious (and dangerous) human captain Ericka. The third film in this family-friendly monster franchise is the best reviewed installment and you're invited along on the haunted cruise vacation!
The all-star voice cast is back, along with some new faces as well including Adam Sandler (Grown-Ups), Andy Samberg (TV's "Brooklyn Nine-Nine"), Selena Gomez (Spring Breakers), Kevin James (Paul Blart: Mall Cop 2), David Spade (TV's "Rules of Engagement"), Steve Buscemi (TV's "Boardwalk Empire"), Keegan Michael Key (TV's "Key and Peele"), Molly Shannon (TV's "Saturday Night Live"), Fran Drescher (TV's "The Nanny"), Kathryn Hahn (Bad Moms), Jim Gaffigan (Super Troopers 2) and Mel Brooks (Young Frankenstein).
HOTEL TRANSYLVANIA 3 is filled with more than an hour of engaging bonus materials including three "All-New Scary-Oke Sing Alongs," a monster dance party dance along to "I See Love" by Joe Jonas featuring Jonas Blue, plus a fun zing-tastic read along with Drac.  Families can enjoy all the frightful fun with a "Plan Your Own Spook-tacular Sleepover" feature and "Vampire Make Over: Mavis and Drac Tutorial," and go behind-the-scenes to explore the amazing talent who bring these characters to life in "Behind the Screams – The Voices of Hotel Transylvania 3.
HOTEL TRANSYLVANIA 3 is directed by three-time Emmy®-winning director Genndy Tartakovsky and written by Genndy Tartakovsky and Michael McCullers. The film is produced by Michelle Murdocca. Hotel Transylvania 3 is presented by Sony Pictures Animation.
Bonus Materials Include:
Three All New Scary-Oke Sing Alongs: Sing along to three Hotel Transylvania 3 inspired songs with your favorite characters!

"Dennis Had a Giant Dog" – Sung by Dennis & Winnie
"Monsters Like to Party Down" – Sung by Johnny
"Oh These Wolf Pups" – Sung by Wanda Werewolf

Plan Your Own Spook-tacular Sleepover: This feature will give you all details on how to make your own sleepover spook-tacular! From snacks to crafts to games and more, follow these steps to create a Hotel T sleep-over with your friends and family, the perfect setting to binge watch all 3 Hotel Transylvania movies.
Vampire Make Over: Mavis and Drac Tutorial: Learn how to turn yourself into your favorite Hotel Transylvania 3 characters.
Behind the Screams – The Voices of Hotel Transylvania 3: Step behind the "screams" with the returning stars and hilarious new cast to see how these characters are brought to life in the recording booth.
Johnny's Home Movies (Franchise Recap): Johnny brings viewers up to speed on what's happened in the Hotel Transylvania franchise so far.
"I See Love" Monster Dance Party Dance Along: Get up and get moving to this haunting monster mash.
Drac's Zing-tastic Read Along: It's storytime with your favorite characters have a silly tale about Drac's search for a Zing!  Read along or sit back and enjoy!
Two Mini Movies (rated G): Two mini-features that will have you howling.
HOTEL TRANSYLVANIA 3 has a run time of approximately 97 minutes and is rated PG for some action and rude humor.
**************************************
Hotel Transylvania 3 Party Pack
This party pack is amazing.  We are in Maine celebrating the close of the season with all the major Halloween celebrations, decorations, trick or treating, and hayrides.  What better time to party with the Hotel Transylvania 3 Party Pack!
As you can see there is plenty to keep all of us busy.  The party pack arrived in a casket!  We knew right away this was going to be epic.  There are games, treasures, collectibles, a stuffed character, Mavis costume with makeup and wings, poster, popcorn and so much more.  The box contents seemed to be endless and definitely something for everyone!
We had party members from 4 to 54.  Everyone had a great time.  And of course watching Hotel Transylvania 3 was a highlight!  Some of us had already seen it while others hadn't seen it at all yet!
Check out all the fun – and definitely don't forget to pick up your copy of Hotel Transylvania 3 at Walmart!
HOTEL TRANSYLVANIA 3 is now available on Digital and arrives on Blu-ray™ Combo Pack and DVD on October 9th! Below, please enjoy a whole batch of spooky Pumpkin Carving Stencils that you can print out and use, as well as an awesome bonus features clip!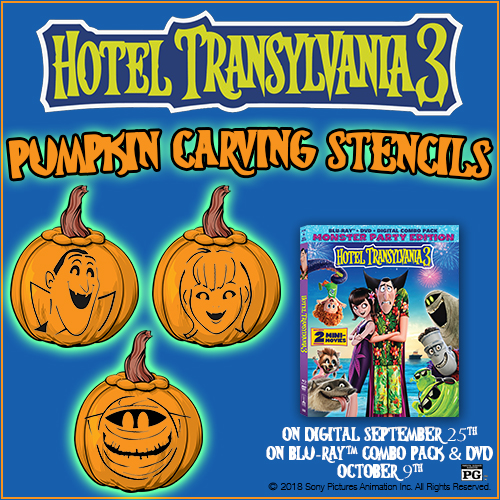 Also please enjoy a whole batch of Drac-tastic material featuring a DracuStraws activity page, a recipe for Drac's Spooky Smoothie!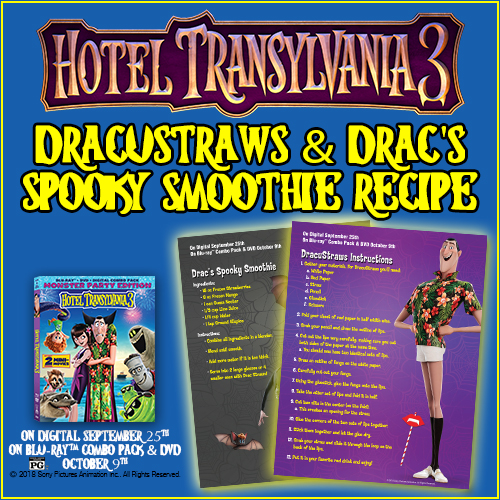 … This is available at Walmart on October 9th!
I received payment, product(s) or services in exchange for an honest opinion.  I only recommend products or services I use personally and/or I believe would be helpful for my readers.  The opinions expressed in this post are entirely my own. Your experience with the product(s) or service(s) may differ from mine.