I have always had dogs – many of them at times.  At the moment we have two – English Mastiff and Newfoundland.  At other times we have had as many as 5 and occasionally litters of puppies in addition to the 5.
They have always been large breed or giant breed dogs – dogs that can destroy things with their teeth.  Unless of course we give them appropriate things to chew on.  In those cases we have always relied on Nylabone.
Our dogs have always loved anything and everything Nylabone.  They are satisfying for them and in the case of the Natural Healthy Edibles – well, exactly what their name says – Healthy.
And right now you can also get a great deal on these Natural Healthy Edibles by Nylabone – Click on the image below and you can print off your own $1 coupon!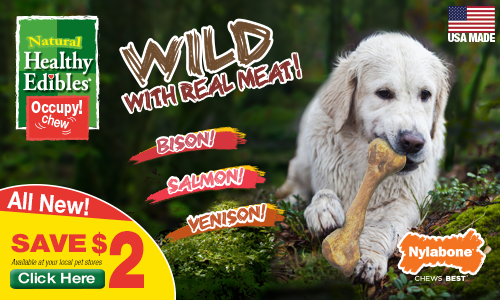 They are available in longer lasting as well as so many different flavors, shapes and sizes.
Now the only problem is the jealousy that exists between the dogs with these treats – I can only let them have them when they are not near one another!
You can get your $1 OFF coupon today (HERE) so you will also have some seriously happy pups!  You can also save $1 in Petco and Petsmart and an additional $1 off on Ibotta. You can stack these coupons for an even greater savings.
I received payment, product(s) or services in exchange for an honest opinion.  I only recommend products or services I use personally and/or I believe would be helpful for my readers.  The opinions expressed in this post are entirely my own.  Your experience with the product(s) or service(s) may differ from mine.